1-2-1 Private Zoom Lesson with the Instructor of your choice.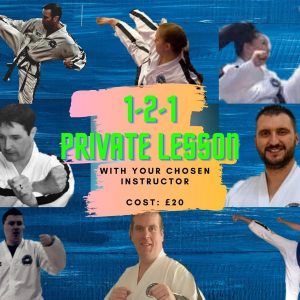 Due to popular demand, the UKTC is delighted to offer a special training opportunity (limited spaces).
If you would like expert tuition on any aspect of your Taekwon-Do Training or for a family member, you can now book a 30 minute Private 1-2-1 Lesson with any of our Instructors.
To book your Private Lesson, simply contact your own instructor or email
uktcgradings@hotmail.com
to request a 30 minute Private Lesson. Our Instructors will then contact you to arrange a suitable day and time.
Cost: £20 (Payable by Bacs Transfer)
Instructors: Master L Rooney, Miss Risk, Miss Haining, Mrs Samson, Mr McNeil, Mr Wiseman, Mr Samson, Mr Vera, Mr Clark, Mr Webb, & Mr Hamilton
Please note that Private Lessons are not free for Master Club Members.